Contact us
For general questions please use this contact form!


Alpha Aktiv Privates Bildungsinstitut
Hans-Böckler-Strasse 2
69115 Heidelberg
Opening hours:
Mon.–Fri. 08:30–17:00
Sat.–Sun. closed
Our school is located in the heart of Heidelberg, not far from Bismarckplatz, Heidelberg's central meeting point. You will find the entrance of the language school next to the opening of the bicycle store on the corner. Please use the stairs to get to the reception on the 3rd floor. The entrance and the building are barrier-free for wheelchair users. To use the elevator, please ring the bell at the bottom of the entrance.
In general, stores, the university, gastronomy and essential sights are easily accessible from our school on foot or by public transport.
For instance, it is only a few minutes walk to:
– University
– University library
– Mensa (inexpensive lunch for students)
– Bookstores
– Boutiques
– Supermarkets
– Cozy pubs and restaurants
– Green areas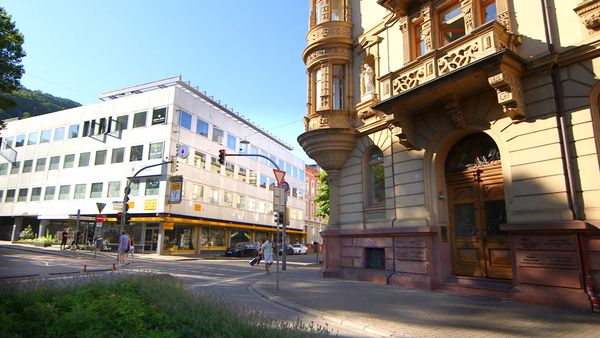 By plane:For your journey, we recommend choosing the airport "Frankfurt am Main – International". This airport is the closest to Heidelberg. Once you arrive there, you can easily travel to Heidelberg by train (Deutsche Bahn), bus (Flixbus), or cab. The journey takes about 1 hour.
By car: Many roads lead to us. Just enter our address in Google Maps and plan your route. Our address is: Hans-Böckler-Str. 2, 69115 Heidelberg.
By bus & train: To get here, you can choose from the following options: Deutsche Bahn, Flixbus and VRN. Heidelberg's central train station is not far from our school. When you arrive at the station, you can take the streetcar lines 5, 21, and 22 or the bus line 33 to Bismarckplatz, only a 2-minute walk from our school.
FAQs
FAQs: Frequently asked questions about our offers
At what time do the classes start?
Our morning classes start at 9 a.m. and finish at 12.15 p.m, with a 15-minute break in between. Our afternoon classes begin at 12.30 p.m. and end at 3.45 p.m which also includes a 15-minute break in between.
What if my visa gets rejected by the embassy?
In general, 25% of the course fee will be charged; however, we never charge more than 300€ and any additional fees (such as postage, bank charges, etc.).
In case of a postponement of arrival due to the visa not being granted for the time being, which is communicated 4 weeks (30 days) or later before the planned arrival, the following cancellation fees will apply: 4 weeks of the booked accommodation.
Can I change between courses if I feel it's too easy / too difficult for me?
Of course! We want you to feel comfortable in class. So whenever you feel like it isn't the right level for you, talk to us and we will make sure to place you in an appropriate class.
What other costs are added to the stated rent?
The deposit and endcleaning fee will be added to the rent. 
I missed the beginning of a course. Is it still possible to join?
If you have already taken some German before, you can join in the middle of a course that has already begun. If you are an absolute beginner, we recommend starting from the initial level.
If you delay your trip for any reason, you can also join the course online in advance, or we will postpone your starting date.
Is the course material included in the price?
The teachers make copies of in-class material; however, you need to buy the books for the class. Ask us which books you need, and we will provide you with all the information you prepare so that you can benefit from our classes right from the start.
Is there Wifi at the school?
Yes, but please keep your phone in your backpack during class time!