Why us?
Why you should learn German at Alpha Aktiv
Languages are paths to the future. They bring people together; create respect, trust, and security. We want to show you this way and offer the following advantages:
Final exam with certificate
We are a language school in the heart of Heidelberg. Unlike other language schools, our atmosphere is very familiar and personal. This atmosphere allows our students to learn german in a pleasant environment and enjoy their language stay to the fullest.
We encourage an independent way of thinking and working and enable you to apply what you have learned in various ways quickly. This mindset allows you to learn a language successfully. After a short time, you will be able to deal with everyday situations in the foreign language of your choice.
Here we work on the basis of various quality standards:
AZAV is the Accreditation and Approval Ordinance for the Promotion of Employment of the German Federal Law. DIN EN ISO 9001 is one of the most important international and cross-industry standards for quality management systems.
Furthermore, it is our goal to deepen your knowledge of the foreign language and your general knowledge and give you an insight into the culture of the respective country.
You are welcome to take part in a free trial lesson to convince yourself personally of our teaching method and the learning atmosphere in our language school. Regular surveys among our students confirm our concept's high level of satisfaction. For more information, feel free to get in touch with us at any time.
Contact us
Do you wish to get more information about our programs ?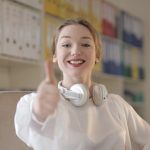 We would be glad to help you!